About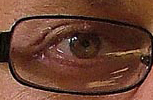 I've been making a living out of the crazy world of the business press for about two decades now. Freelance Unbound is all about that, plus some of that social networking malarkey the kids are into these days. Oh, and stuff about stopframe animation because, you know, it's nice to have a hobby…
Email me: freelanceunbound@gmail.com
Tweet me: Twitter.com/freelanceNbound
You can find out a bit more about my life in journalism so far here.
The Resources page has links to student notes and handouts on things like blogging and web audio and video.