Finding and handling web images
Where to find images for your site
Try photo sharing sites such as Flickr.com (the biggest) as well as well as Google images to find pictures. Also try royalty-free stock images from sites such as Stock.xchng and iStock. A lot of images on stock.xchng are free to download and with no copyright restrictions for non-commercial use. iStock images do cost money – though they are pretty cheap. Obviously the idea of paying for anything digital will be anathema to you, but a lot of magazines use iStock for print imagery, so check it out.
Faster web images
Here's a neat PhotoShop workflow to speed up creating web images once you've found them.
Open up your image in PhotoShop
Select the crop tool (as shown below)
The crop options will appear at the top of the menu bar (as shown below)

Fill in the fields with width (in cm or px), height and resolution (must be 72dpi)
Then use your crop tool to select the area in the image you want to crop
Remember: the proportion of the image will always be consistent with your width and height settings. And no matter how big an area of the original image you crop, it will always end up the measurements you have chosen in the crop options.
PhotoShop will also keep your settings for every image you work on until you change them. This is great for batch processing and can save a lot of time.
How to save for web
Another trick to save time: the "Save for web and devices" option. Find this under the "File" menu on the top bar.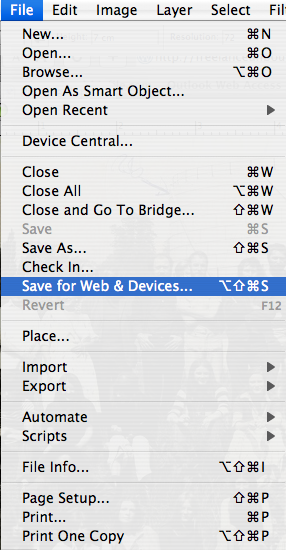 The dialogue window you get looks like this: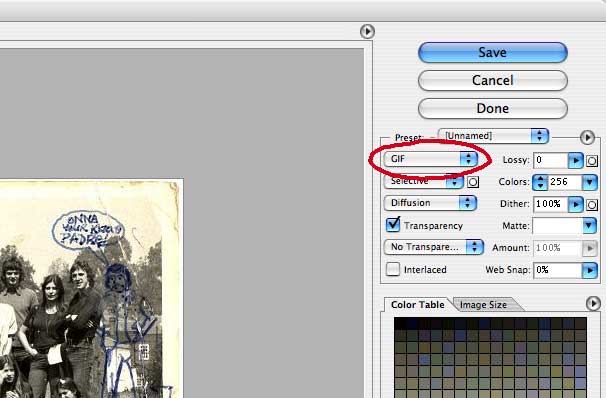 Save either as jpeg or gif. Which should you use? There's a link to this topic here, but basically use jpeg for photos and gif for things like logos, where there are blocks of uniform colour.
When you click "Save", it also handily saves the file with a web-safe filename, taking out any spaces, which could mess up some content management systems.
Feel free to contact me if you have any questions.