Tuesday, July 27, 2010...2:24 pm
Tales from the trade press: Clinique's press office hell
Jump to Comments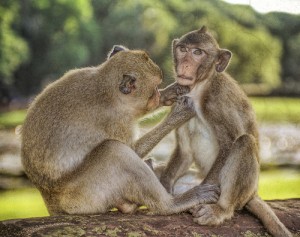 Regular readers will know something of the trials of the freelance trade press journalist. Here's another instalment, which gives an interesting insight into how some brands see the idea of "communication".
The past couple of weeks of my scintillating media life have been taken up with writing a business-to-business (b2b) feature on male grooming for The Grocer – that fine trade press newspaper for the retail trade from William Reed Business Media.
As briefs go, it followed the usual path. Retail buyers (among the magazine's core constituency) were not interested at all in talking to me. Male grooming brands (which all wanted to reach and inform the retail buyers) were falling over themselves to send me information and more-or-less relevant commentary.
Except one. When I tried to reach Clinique – arguably the brand that made skin care-type products acceptable to men in the first place back in the 1980s – I drew a blank.
Go to the media relations page on the Clinique web site and it asks you to register as a member of the press to get access to media contact information. Yes, that's right, you must register as a member of the press before you can actually bother the super-busy and important media relations team with your media enquiry.
Well – it's a big brand. Maybe they get inundated with time-wasters. No problem – I'll fill out the form and wait for the, hopefully, quick and automated notification of my login details. There we go – an automated message saying:
Thank you for applying for a Press Pass. Your application is now being processed and you will be contacted shortly by a member of the team.
"Shortly". That's good, because my deadline is a week on Thursday and I don't have as much time as I'd like to get all the information together. Let's hope a member of Clinique's "team" gets back to me in a day or two. I hope they're not too busy.
That was two weeks ago. Yesterday morning – several days too late – I finally got an email from "Camilla". Did she have confirmation of my registration with the press office? Was she full of apologies for taking bloody weeks to bother to reply to my enquiry? No. She wanted to know a bit more about me:
Thank you for your recent (sic) application to Clinique's online press office.  It would be great to find out some more information about the publications that you work for.  We would just like to get a bit more information as I don't believe we've worked together before.
No, Camilla, we haven't. Gosh – that's because this is my first time trying to write about your brand. Which you are making quite difficult. Especially as my deadline has already been and gone. So, you know, thanks for nothing.
And why is it that Clinique is so reluctant to embrace my press enquiry with open arms?
Our corporate policy is that we request a media pack or hard copy of any new publications that we haven't worked with before, in order to gain brand approval. As you're freelance, we require information on the publications that you work for.  We are more than happy to help out with your queries if you are happy to respond with this information.
Oh, gee – thanks. I'm so happy you need to vet me to even let me ask you a sodding question.
And "brand approval" to let a journalist talk to a press office? Get over yourselves. A press office exists to talk to journalists. If you are putting obstacles in their way, you're just a waste of space.
And remember – journalists are consumers too. I think I won't be putting any business Clinique's way from now on…
[UPDATE: I've just had a lovely email from Amy in the Clinique press office, who is terribly apologetic and, more importantly, has updated the Clinique press office web site with a general contact number for journalists (and, presumably, time-wasters). Hurrah]
Tweet