Thursday, July 29, 2010...9:00 am
What's the problem with the Query Posts WordPress plug-in?
Jump to Comments
Warning: intense WordPress geekery ahead
.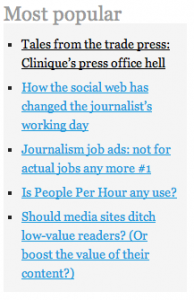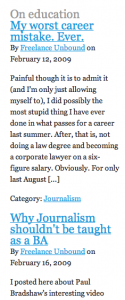 WordPress has gone all version 3.0 recently, and plug-in authors have been busily updating their software.
This has been fine so far, but yesterday I updated the fine Query Posts plug-in by high-profile WordPress author Justin Tadlock. And it has screwed up.
Query Posts is a super useful and well-produced plug-in that allows you to call up posts from your database of content using a whole range of criteria – from date and category to keyword tag or author name.
But as soon as it had updated to version 0.3, my sidebar list of posts turned from an orderly list of post titles in a neat, widget-style box (above left) to giant H2 headlines with full-blown excerpts underneath (above right). And I'm blowed if I can find out how to make them revert to the way they were.
In fact, when I tried to change the giant H2 headline to a smaller typeface, it seemed to screw up the other sidebar headlines too, so I've had to deactivate it.
Has any other WordPress user had this trouble? I'd be interested to know if it's just me being more stupid than usual…
[UPDATE: Via the themehybrid support site (actually worth the $25 annual membership, I've found), I am informed that if you just need a list, you can select the blank option for entry_title, and then don't forget to select ul from the pulldown menu for entry_container]
Tweet