Tuesday, June 21, 2011...9:00 am
Modern linguistic madness #1: Coinstar counting machines
Jump to Comments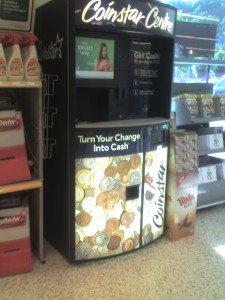 Evidence that modern life is rubbish, linguistically at least: spotted in the local Morrisons, a handy Coinstar coin exchange machine.
Unlike most other commentators, I'm not taking issue with the ridiculous idea of paying a machine for the privilege of counting my money.
But I believe we must stand up against the incoherence of its selling message: "Turn your change into cash! – it's as easy as 1-2-3"
Why this is utter nonsense:
Change is cash. Last time I looked. You're suggesting our change – made up of coins –  is something else. Get a dictionary.
Oh, I see – small coins are fiddly and inconvenient. So – exchange your fiddly shrapnel for a handy £10 note. Well, that's OK.
No! Here's the 1-2-3 bit:
To start, touch the green button on the screen or on the keypad below
Put coins in tray
Redeem voucher at this location today
So – what we're doing is taking cash, putting in into the Coinstar machine, getting in exchange not cash, but a voucher, then standing in a queue to exchange it for other cash (or paying towards your shopping maybe). And paying 5-10% in commission for the privilege.
That doesn't sound easy to me. Especially given Morrisons' under-staffed checkouts. It sounds like a palaver. What sounds easy is spending the coins themselves – as, you know, cash.
The worst thing is that many people will read this and think it makes sense. And does anyone know why this business model actually works? Baffling…
Tweet