Sunday, October 2, 2011...11:10 pm
Did BBC sub-editors jump the gun over Isobel Dobson arrest?
Jump to Comments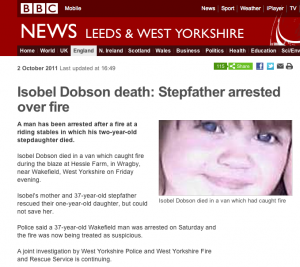 The death of two-year-old Isobel Dobson in a van fire last Friday is now being treated as "suspicious" by police, who have arrested a 37-year-old man in connection with the incident.
Could this be the same 37-year-old man who tried to save her on Friday? Her stepfather, in fact?
BBC online sub-editors seem to think so. And I would probably draw that inference too.
Legally speaking, though, if the police have failed to name the suspect they have arrested, I'm not sure the media is supposed to guess their identity.
Any bets on a reworked headline by sometime on Monday?
Tweet