Sunday, July 29, 2012...10:02 pm
Apple forgets to add a "download here" button to its Safari software page
Jump to Comments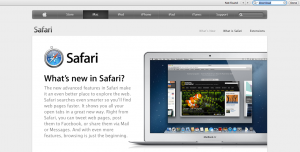 Running an earlier version of Safari and realise you need to download the latest version to make sure you are as web-compatible as possible? No problem – just head off to Apple's dedicated Safari web pages on its site and download it.
Uh – where's the download button? Surely the masters of usable technology design haven't forgotten to add it to the page.
It looks like they have. That's weird. Maybe it's only available from the App Store (a note to that effect would be useful, guys). Nope – that's not it.
I'll have to hunt the rest of the web to see if there's a link somewhere else to a download of Safari 6. Aha! Thanks, PC Advisor – that's really helpful. A shame Apple can't offer the same basic functionality on its own fancy site.
Not sure this would have happened if the boss had still been around…
[UPDATE (if only): the kind and helpful @ffffelix points out there is "small print" at the very foot of the page that explains Safari is available through Software Update. Which begs the questions: (a) why couldn't Apple put that slightly higher up the page and slightly larger and (b) why my Software Update still keeps me on version 5-point-something with no suggestion I can update to the latest version…]
[UPDATE 2: Duh – of course, Apple wants you to only get the update to Safari, your free web browser, by updating your expensive operating system to the next version (Mountain Lion, in this case). I should have realised straight away…]
Tweet