Sunday, September 20, 2009...8:56 am
Self-hosted 3-column Pressrow
Jump to Comments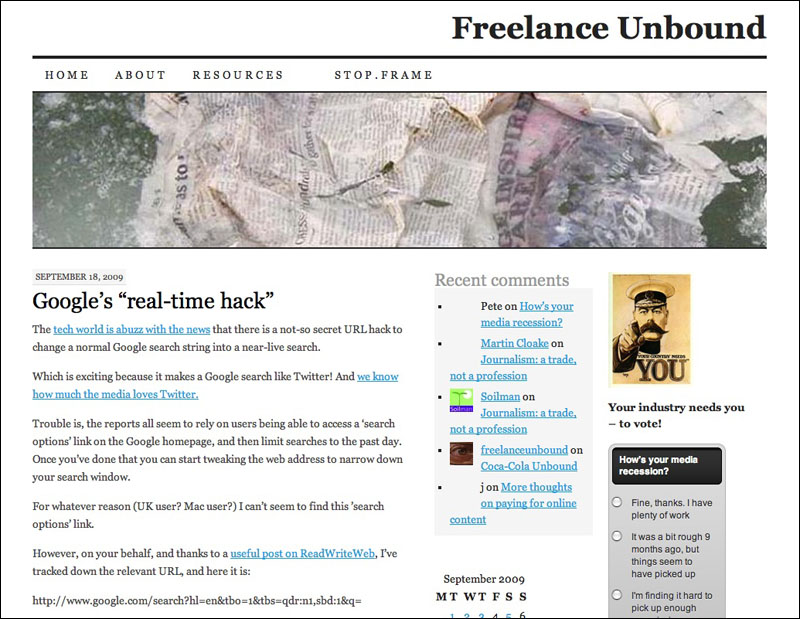 Well, it's been a long, hard road, but here we are. A brand new web host and a brand new look. Well – a brand new look that looks very much like the old look, but hey.
All visitors from the old wordpress.com address should be automatically redirected here. I'll probably try to nudge people to change their RSS feed and whatnot, but if you do nothing that should still not be a problem. (At least until I forget to pay WordPress to do the redirection. Which won't be for another year at least.)
Anyone who's going "squeeeee" with excitement at seeing a real 3-column Pressrow-themed blog that uses honest-to-god Widgets in the sidebar should lie down in a darkened room for a while with a damp flannel over their eyes.

Then, if they really want, they can click on this naff flashing icon here and download the theme for themselves.
WARNING: It's a tiny bit flaky, in that it doesn't like putting captions on images and doesn't seem to like running images side by side. And then there are the square bullets next to the comment Gravatars on the right that shouldn't be there.
But think of it as buying a flat that has been almost entirely done up except for that attic refurbishment you always fancied trying. Here's your chance to make your own mark on the internet. And if you succeed, write in and let me know.
UPDATE: The sidebars don't seem to show up in Internet Explorer – at least on Mac OS X. Though why you'd want to use IE on a Mac I don't know. I'll have to check the usability on a Windows machine when I get access to one. Any feedback is welcome…
Tweet