Thursday, October 21, 2010...1:41 pm
The worst local election leaflet ever?
Jump to Comments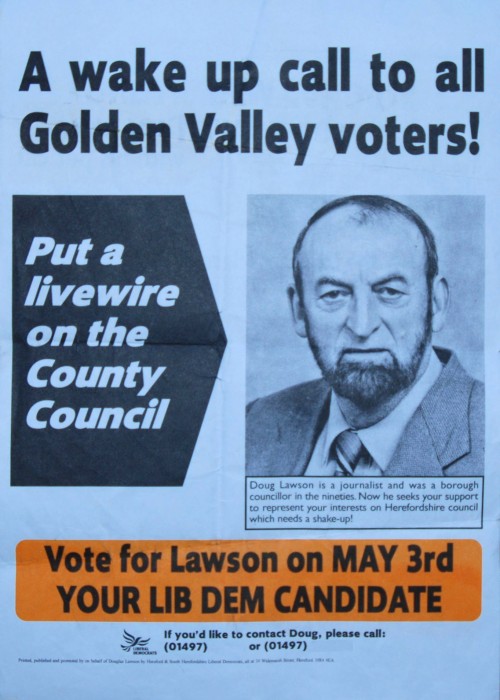 I know, I know – you thought the Lib-Dems had finally graduated to the big leagues in politics. They've got nice suits, seats in Cabinet and a highly sophisticated communications machine.
But it was not ever thus. Unpacking boxes in Freelance Unbound's spacious new South-West headquarters reveals this local election leaflet from just a few short years ago.
The shame of it is that local Herefordshire Lib-Dem election candidate Doug Lawson "is a journalist" – which makes it doubly sad that he's broken a cardinal rule of sub-editing: make sure your caption matches your picture.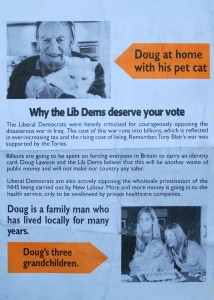 As for the reverse of the leaflet, I don't know about you, but I for one am sold by the image of Doug "at home with his pet cat". That's a team I would want representing me on my local council, let me tell you.
I'm wondering if it was the cat that was in charge of the campaign communications. Or is that being a bit harsh? (To the cat, obviously…)
[UPDATE: Sadly it seems Doug failed in his bid to take the Golden Valley North seat in 2007 – he was pipped by just four votes by the Green candidate, Edi Hamilton…]
Tweet