Thursday, January 27, 2011...1:32 pm
Incisive Media publishes personal details of freelance sub-editors
Jump to Comments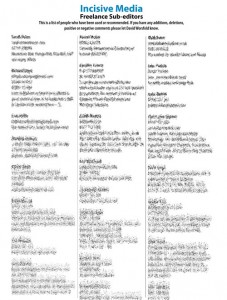 Incisive Media has published a PDF document on its company intranet of sub-editors' contact details on the web. However, the document link is freely accessible to anyone without any login protection.
The document contains names, email addresses and phone numbers of 67 freelance sub-editors. In addition, some entries include a home address and professional history, which some subs may want to keep confidential. It seems that some, certainly, on the list did not give any permission for this to occur and were unaware of its existence.
A telephone call by one sub-editor to Incisive to request removal has so far been not been met. However, a call and email to David Worsfold, Incisive Media's group editorial services director, received a categorical assurance that the free publication of this data was unintentional and would be looked into straight away to block it off from public view.
Worsfold said that the publication should not be available to the wider public, as it was on the company intranet, without being aware that the intranet seemed to have no login barrier to casual visitors. He stressed that prompt steps would be taken to change this.
According to the Office of the Information Commissioner, anyone concerned about their data being revealed in this way by Incisive Media, or any other company, should approach the company in writing (email will do) to request removal.
If Incisive Media should fail to accede to the request (or considers it has legitimate reason to publish the data), then any concerned subs should make a formal complaint to the Office of the Information Commissioner. The Office will investigate and rule if the data is being used illegitimately.
However, any potential complainant should give the company sufficient time to investigate and remedy the problem before doing so.
According to the Office of the Information Commissioner, in a case like this, dealing with personal information that is published online in a straightforward document, a company could be expected to solve the problem promptly – within 24-48 hours. [UPDATE: the data is unavailable as of 7pm the same day]
This is a tricky subject, as clearly freelance sub-editors will also want to publicise their services. However, any online publication must be with the informed consent of the person whose data is being used – specifically to avoid revealing information that might put people at risk, such as a home address.
Tweet