Wednesday, March 16, 2011...10:54 am
Nuclear power panic – why we need to protect UK nuclear plants from earthquakes. Or not
Jump to Comments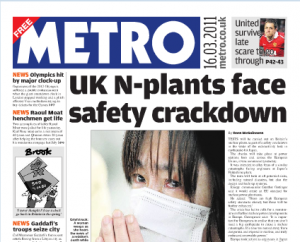 In response to the containment breach at the Fukushima Daiichi nuclear power plant, a predictable flurry of panicky "safety" measures elsewhere. According to the Metro:
Tests will be carried out on Britain's nuclear plants as part of a safety crackdown in the wake of the radioactivity leak in earthquake-hit Japan
Because, of course, a nuclear disaster caused by an enormous earthquake in a geologically unstable part of the world has immediately raised the risks of a disaster here. We must be shown to act quickly and decisively to ensure the safety of our own population from an earthquake-induced nuclear breach.
Ah – no. Here's Greenpeace, making the key point:
It is important for Europeans to realise that you don't need a big earthquake to cause a nuclear catastrophe
Uh – actually, it looks like you really do need to have a big earthquake to cause a nuclear disaster. Without the earthquake, the nuclear plant in Japan would have quite happily chugged along, producing electricity and not blowing up. In all likelihood.
This is just knee-jerk safety theatre – if our nuclear plants were not especially dangerous before, they're not especially dangerous now. EU energy commissioner Gunther Oettinger is quoted as saying "There are high European safety standards already." Well – then we don't need this crowd-pleasing – but probably pointless –  series of tests.
And if we do need them – then logically our standards aren't high enough. So what would have happened if Japan's earthquake hadn't hit? Do we only create safety standards in reaction to catastrophic natural events?
This is all nonsense – and the media should call it to account.
Tweet