Thursday, March 17, 2011...8:30 am
Local free magazine of the day – Retired & living in Swindon
Jump to Comments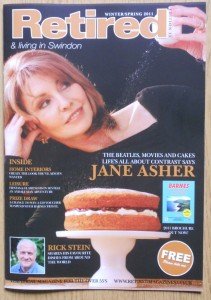 Found on the free magazine rack in Morrisons in Bath – an example of how the magazine industry is fighting back against the slew of sub-standard free online content. Basically, by producing a slew of sub-standard free printed content.
At first glance, Retired – & living in Swindon looks as if it is produced by someone who is retired and living in Swindon – probably from their spare room. But it's actually one of an improbable number of local variants from Bolton-based Retired Magazine (39 bi-annual editions according to the web site, plus event specials).
Yes – a striking cover featuring the nation's most glamorous pensioner, Jane Asher (64). And this, at least, seems to be a real feature based on a real interview. But the rest of it is a hodge-podge of PR puffery, second-hand extracts from a celebrity book and company-generated advertorial.
Worse, it looks like a dog's dinner – nothing's lined up to a grid and the typography is a mess that seems to be based entirely on the standard free fonts that come with your computer.
The sad thing is that this is the kind of magazine that would probably have been produced by some real editorial staff 15 years ago. Now, it's thrown together by someone with seemingly no editorial production ability at all. Yet it must make money – this variant is up to its 15th edition, and others are much older.
Print just won't lie down and die, it seems – even when perhaps it should…
[NB: if you are worried about missing out on a copy, subscribe! Just £3.40 to cover P&P will get you a year's worth of issues (2), delivered straight to your door!]
Tweet