Wednesday, June 20, 2012...10:12 pm
Hyperlocal case study: @WeLoveBath
Jump to Comments
Bath is a thriving multi-meejah city, full of festivals like Bath Digital Festival and events like the recent D:Bate on the future of print vs. digital media. It's also got lots of interesting hyperlocal (or hyperlocal-ish) stuff happening.
One is Twitter-based WeLoveBath. Launched a couple of years ago, it's won its creator, web designer Felix Renicks, a couple of runner-up placings in last year's Bath Chronicle People of the Year Awards.
Arguably, a service that covers a whole city – though a small one – isn't exactly hyperlocal. But the feed has very focused content, down to neighbourhood or street level. And the interests it reflects are not typical news agenda issues. This week I interview Felix to see how the service was set up and what he's learned from the project.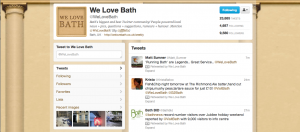 Service: WeLoveBath
Location: Bath
Platform: Twitter
Founder: Felix Renicks
Established: 2 years
Followers: 9,500
Following: 4,600
Tweets: 24,000
How it works
@WeLoveBath is a curated Twitter feed. Content is based on retweets – Felix creates no original content himself. Retweets come from a range of sources, including retweets from Twitter based on relevant keyword searches and from the accounts that @WeLoveBath follows. Then there are submissions from Twitter users who use the @WeLoveBath reply. Finally, there is a small amount of automated content, such as traffic and weather, fed in via RSS. WeLoveBath has also trialled an email subscription offering a "best of the feed" round-up, running weekly for a while.
Why did you set it up?
"I set up WeLoveBath because I wanted to follow it – I was looking for it and it didn't exist. I never thought it would be a hugely popular service. I just thought it would be useful. The Bath Chronicle was tweeting a bit, and all sorts of people were talking about Bath, but it was difficult to find – you had to hunt it out."
Why Twitter?
"It was either going to be Twitter or Facebook, realistically, to generate enough content to work. Twitter is much more public than Facebook. I've found Facebook really difficult. I've since set up a Facebook page and got about 1,000 fans, which is fine. But Facebook is all about photos and everything's private. It's essentially the world's biggest photo site, with a social network on top. It's completely different from Twitter. The conversation was already there on Twitter. I just needed to tap into it."
What's your marketing strategy?
"I started off with my friends around Bath following me – I had about 100 followers at first. It was very small for a long time. For the first year it was only a couple of tweets a day. But Twitter gets faster and faster – it snowballs. It's now gaining about 100 followers a week. The feed isn't marketed, it's just word of mouth. It's been in the Bath Chronicle a number of times, but I don't think that really has any effect. It's much easier to click if you're already on Twitter than to go from the newspaper to the computer.
"Many people, including a lot of traditional marketers, don't understand that Twitter is a two-way thing. You can't get followers from just broadcasting. You have to follow and reply to people. By default you get an email when someone follows you. I follow about 4,500 people, so when I follow them they hear about WeLoveBath. There's no real strategy about following people. It doesn't cost anything and there's no reason not to follow people. I use the search bar to find people who are talking about Bath: they're probably going to be interested in the feed.
"Brands should be doing that anyway. Topshop should be following people who are talking about them."
What's your editorial strategy?
"Basically my role is editor – I don't create any content. Mostly the content is retweets, but a small proportion of the content is automated. The weather, travel and local news is automated from RSS feeds. It's a custom code job – using a PHP script to work with the Twitter API.
"The weather feed took a long time to create because it has to get the weather from Yahoo's API and send it to Twitter, but people love it. In the early days the weather was one of the most popular things – people liked to get the weather sent to them at 8am. It was definitely worth the effort. It's probably not the most efficient code, but it works.
"It's certainly an advantage to know how to code – or just to understand how it works so you know what to ask for from tech people.
"At first I was just looking at what people were saying and retweeting it, but the more popular it became the more people submitted stuff using the @WeLoveBath signature. People come and go, but there are people who tweet a couple of times a week, as opposed to people who just use the feed when they need to ask for things like a local electrician. There are people who actively enjoy the citizen journalism side of it.
"There are maybe 20-30 core contributors, but they don't make up more than half of the feed; it's not overwhelming. I tried to create a leaderboard of who contributed most during the week, but the data is too flat – the most frequent was three tweets."
How do you handle quality control?
"People who submit content tweet using @welovebath; I retweet what I think is relevant and interesting to the WeLoveBath feed. I have to filter the submissions – there's a garden centre that tweets me about water butts every day and I know people don't want to see that.
"I have to do it manually. It helps that I work on a computer all day so I can keep an eye on the feed using the Twitter for Mac app. It becomes sort-of semi-automatic. When things get quieter and I get time I'll run some saved searches such as "in bath" minus a lot of keywords to filter it down. Anything that's interesting in those search results I'll also retweet. I've tried other search strings such as "of Bath", but I've found "in Bath" is the best search.
"I add to the saved searches over time when I come across useful keywords – people talking about specific things like "BathSpa" university, or "Oldfield Park" (a local area). You can't just search for "Bath" on its own. People are talking about having baths, and there's a Bath in the US. That's why it has to be curated."
"It's very easy to set up, but needs a bit of attention to keep going. When you first set it up you have to go without anyone listening for a while to make it worth it. A lot of people start copycat things, especially for Bath, but they don't last. You have to continue with five followers and it feels like a waste of time. But why would you follow when there's nothing there? You have to build it up from nothing. Until it actually is something, there's no point."
What role does the email newsletter play?
For a while, Felix sent out a more-or-less weekly email newsletter featuring selected excerpts from the feed. The service ran through Campaign Monitor for around £20 an month, which handled the subscription list and sending the email.
"It was really popular and helped to reach a new audience. Not everyone is on Twitter, but everyone's got an email address, so it really helped spread the word. It's a static thing – a tweet can go past, but the newsletter will stay in your inbox until you've read it or deleted it. It offers a bit more editorial control in terms of sections and features. I also tried to tell a story through tweets, each part of a sentence would be sourced to a tweet.
"I did one to see if it would be popular, and it was. But the first one was a test, and it ran as a test for 20 issues. The format wasn't very streamlined and it took about 6 hours to create. It will be back, but it will take a lot of attention to redo."
Plans for monetisation
"The email newsletter could make money in time. I don't ever want to put ads or sponsorship on the Twitter profile as it's not really my site. If I put them in the feed, I don't want to feel that I can't retweet someone being critical of a business. I've no idea what return I could get from it. I'm not desperate to monetise it. But if I did I would be keen to do it in a way that would add value, like a classified service or a jobs board."
Lessons learned
Don't try to manufacture community
WeLoveBath offers something to an existing community that it may find interesting.
It's risky
Felix doesn't really own anything. "The Twitter account isn't really mine – it's Twitter's and it could change its product at any time."
People can misunderstand it
They think it's part of the Bath Chronicle or the local council. Also it does not endorse the views (negative or positive) that it streams, which can confuse readers.
It's outgrowing itself
"I often don't publish stuff because it's too much and I don't want to overwhelm people. Or there's too much repetition. Basically you can have too much material for a feed. The problem comes when the stream becomes a flood."
Tweet